My week: Dealing with panic shoppers, adapting to 1 dog walk per day and learning to cope without football
I'm Lee, 33 years old. I'm originally from Hull but somehow found myself living in a Kent suburb with a Dutch wife, Noor, 35, and a 14-year-old stepson, Lucas. We also have 2 Jack Russells – Oscar, a 3 legged 15-year-old, and Johan, an 18-week-old puppy, whose teeth are slowly destroying my hands, nose, ears… basically everything - it's a good job he's cute.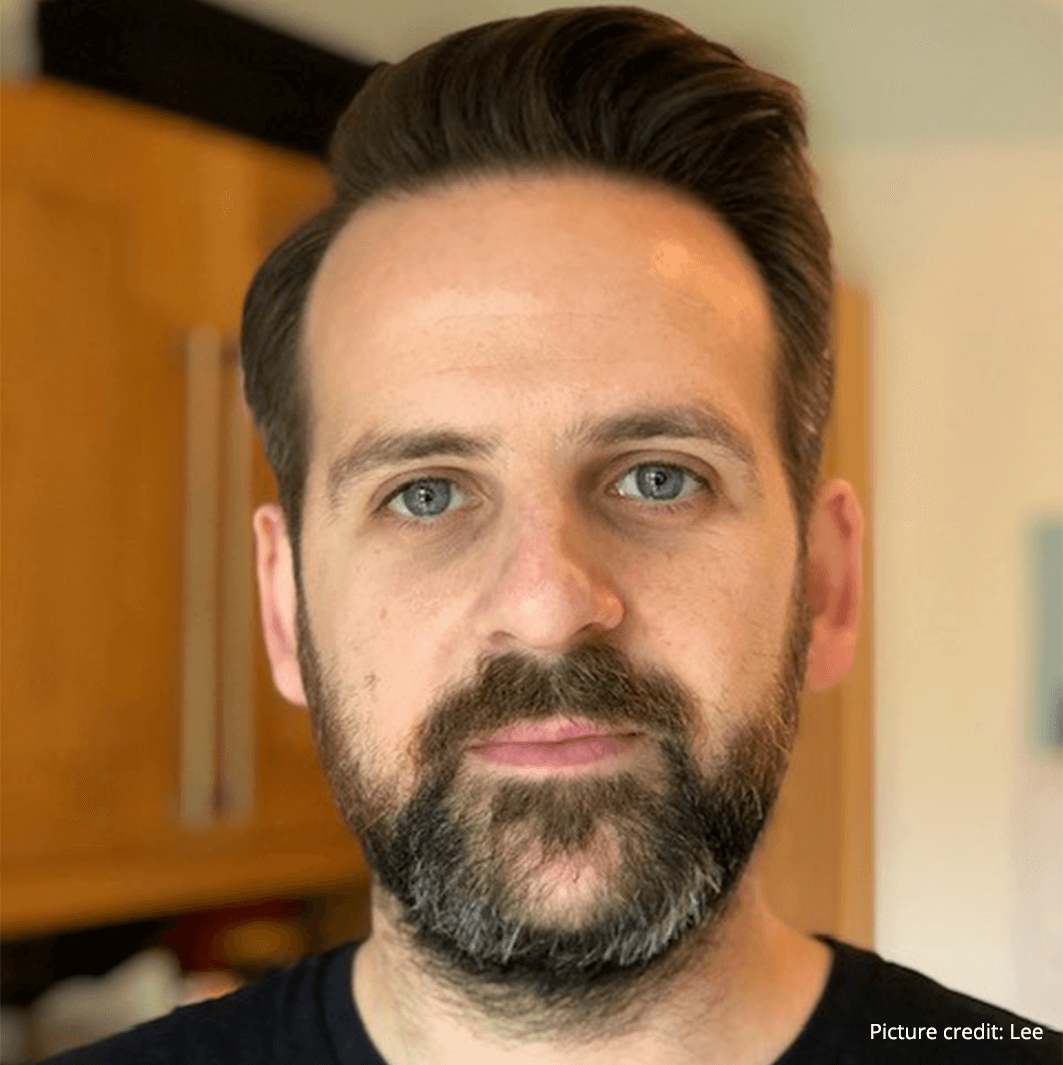 Like everyone right now, I'm slowly trying to wrap my head around the impact coronavirus is having on my work and personal life. My wife and I are now working from home (or 'WFH' as the cool kids say) and we're fighting a losing battle trying to convince a teenager that 'self-studying' is more appealing than his Xbox.
Having spent nearly 2 weeks in semi-isolation – leaving the house only for supermarket shopping and my once-daily dog walk/exercise as per government guidelines – I've realised just how easy and often I tend to tap that debit card of mine when I'm living my 'regular life' off the leash.
Saturday (March 21st)
It's 8am. Somehow I'm awake. Somehow I'm completely sober. Late yesterday afternoon, Boris Johnson officially closed all pubs and restaurants, meaning our usual Friday night in the local (don't worry, Lucas was with his dad this weekend!) was replaced with a TV binge and a takeaway delivery.
My usual Saturday starts with my wife and I taking the dogs out, which would normally mean spending £5.20 in our local coffee shop next to the dog park. But not today - coffee is officially off limits, well the shops are at least. I also play for a local football team on Saturdays, but with our games now called off indefinitely, that's another £10 saving on subs and another £10 (minimum!) that would have been spent on pints in the pub afterwards. The rest of the day carried on in a similar fashion. Rather than spending money, I was constantly reminded of the things I would usually spend money on.
Saturday is one of our more socially expensive days – whether it's a family meal out, a trip to the cinema or watching football in the pub. This can set us back anywhere between £30-£100 depending on where we go or how long we're out for. Instead, with our usual hotspots out of action, we pretty much spent another day isolating in front of the TV.
Breakfast (poached egg on toast), lunch (tuna salad) and dinner (bangers and mash) were all made from leftover food shopping we'd bought earlier that week.
Total spend: £0.00
Sunday
Mother's Day. This was a difficult one for me. If cooking were a martial art, I'd still be plodding away on my white belt! Rather than my usual breakfast treat out, I made my best attempt at making one of my wife's favourite breakfasts of scrambled egg, smoked salmon and avocado on toast which we already had the ingredients for. I'd give myself a respectable 6/10 but wasn't feeling so brave about lunch…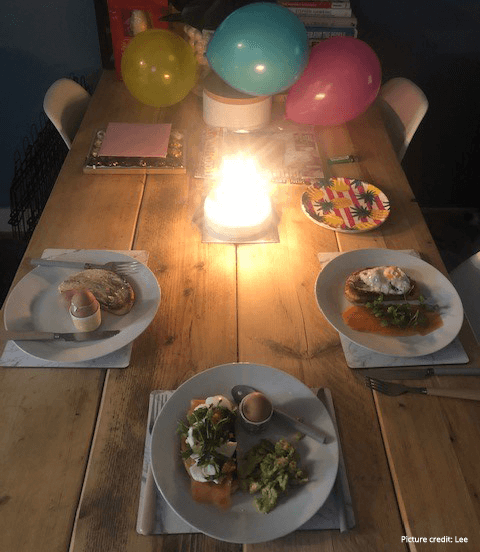 Luckily for me, my wife loves football. And, for us, nothing beats a double bill of 'Sunday Sunday' Premier League football games on the telly. We usually watch this at home or pop into town and watch the games over a Sunday dinner in the pub - that would have been perfect today. It would have avoided me making the world's worst Mother's Day lunch (ham and cheese toastie, anyone?) and we could have relaxed with some friends too.
But with no Super Sunday - the one enjoyment I crave on the weekend, and most places to eat closed, I decided to use my daily trip out of the house to fetch a family drive-through takeaway instead (I won't give away my secrets, but it's got a big yellow sign and rhymes with McFonald's). This feast for 3 came to £28.82.
Noor, Lucas and I spent the rest of the day playing board games and watched a film together in the evening over home-cooked pizza.
Total spend: £28.82
(Although, it's also worth mentioning I spent around £40 on cards, flowers and a couple of little gifts online in the week before this).
Monday
The day I've been dreading. The cupboards, fridge and freezer are bare. We can't avoid the supermarket any longer. Two weeks ago, when the world as we knew it operated as normal, the red flags had already started to appear when I noticed the long-life milk and tea bags were fully cleaned out (classic Brits!). So having spent the weekend reading news stories about people fighting over toilet paper, I wasn't exactly filled with enthusiasm.
Noor and I are usually very spontaneous shoppers. We tend to shop every couple of days buying whatever it is we fancy to get us through the next 2/3 days - no shopping lists and little attention to how much we spend (within limits). However, to respect social distancing measures, we've had to plan ahead for the first time ever and try to find a happy medium between buying enough food/household goods to get us through the next 7 days, but not TOO MUCH that it verges on 'hoarding'. It's all very stressful…
We decided to go mid-morning – a few hours after the opening mosh pit starts and an hour or so before a potential lunchtime rush. Our breakfasts are pretty much made up of eggs on toast, pancakes or porridge - except today there was no eggs. Substitute in some peanut butter and marmite (gross, that's for Noor) and we're good to go. The rest of the shop was pretty much business as usual, which was surprising, except for no toilet paper (obviously). We spent £94 in total, which also included some toiletries, cleaning products, and beer/wine to drink throughout the week too.
Today's usual spend working from the office would have been £3.50 on the canteen lunch and at least £1.70 on a coffee. Officially no more 6-a-side football for me tonight too – another £5 saved.
Total spend: £94.00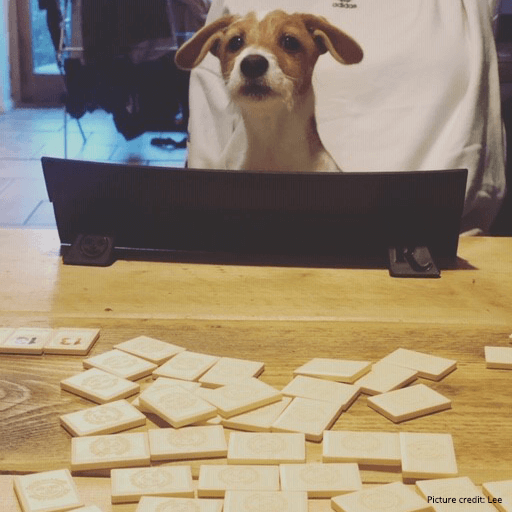 Tuesday
Lucas is back with his dad today. Noor and I are WFH (thought I'd try it out). Breakfast (toast and ham slices), lunch (chicken Caesar salad) and dinner (lamb stew which had been slow cooking all day) are all prepared courtesy of yesterday's shop. We realised that we'd forgotten a couple of ingredients for the stew – like I said, poor planners – but thankfully Noor and her black belt cooking skills improvised around it. It tasted amazing. I have no idea what wizardry this is - I probably never will.
The 1 daily walks is becoming more and more difficult to manage with the dogs. We'd never really thought about it before but between my wife and I, the dogs usually go out at least 2-3 times per day. We have a garden they can go into but it doesn't quite do the job. If you've ever owned or come across a Jack Russell, you'll know that they're a little… energetic let's say, to be polite. Through trial and error, we're still trying to figure out the best time of day to walk them. We decided to take them for a long woodland walk today to mix up the scenery and hopefully tire them out.
Another cost-free day. In the evening, Noor and I played a board game over some red wine. We started to watch a film, I fell asleep, Noor got annoyed.
Total spend: £0.00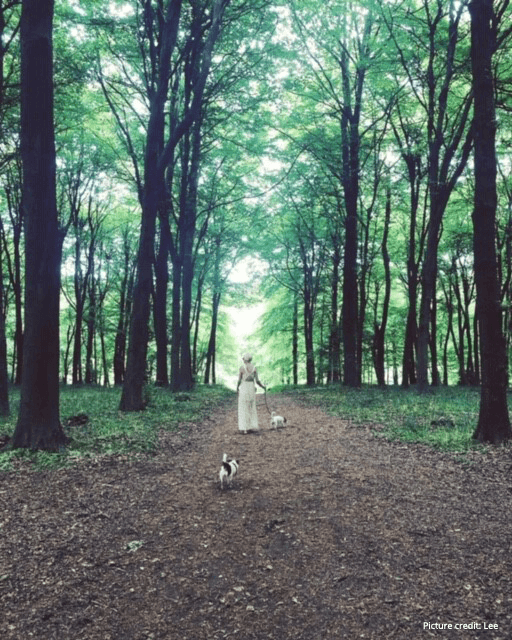 Thursday
They say that you don't know what you've got until it's gone. I'm starting to relate to this a lot today. I'm missing the daily face-to-face interactions with my work colleagues. I'm missing mid-week Champions League football matches and taking Lucas to the park for a guilt-free kick about.
The same can't be said of my gym membership. I received an email to say that all gym membership direct debits will be suspended until the club can re-open again. To be honest, it could have been closed for the past 6 months and I wouldn't have noticed!
Today's been another day not spending money. But, once again, another day reminding me of my unnecessary spending habits. I'm slightly ashamed to admit that my bank account remained £83 richer as a result of my gym membership being suspended. That's right… I was the guy who got sucked in by the full VIP treatment. Hypnotised by the pool, and the spa, and the fancy tennis courts. It doesn't matter that I haven't picked up a tennis racket since 2004. After 10 minutes, and one hell of a sales pitch, I was convinced I was going to become the next Roger Federer.
I'm not saying that £83 per month isn't a worthwhile investment if you USE IT. But… I don't. My mobile banking app also highlighted that my contactless spending was down by £33 this week (mainly work lunches, coffees and vending machine snacks!) but spending nearly £20 per week on a gym I barely use has to be right up there as the most frivolous cost yet! Maybe I'll need to revisit those home workout videos after all?
The good news is that I got to eat poached eggs on toast again for breakfast. Once again, lunch (steak and cheese sandwich) and dinner (chicken pesto pasta) cost nothing.
Total spend: £0.00
Friday
Friday feeling time! You know the working week is almost done when the 'Pancake Friday' breakfast is here, with a choice of maple syrup, fresh fruits, bacon and cheese – the works!
The remainder of my day was pretty predictable given the lockdown. Worked from home. Walked the dogs again. Lunch (tuna salad) was also made from ingredients still in the house.
Noor, Lucas and I are all starting to feel the claustrophobia set in. Our daily escape feels great for our minds and bodies but less than 1 hour per day outdoors still doesn't feel like much of a luxury.
We decided to fix that with a luxury takeaway instead. There's a really lovely Malaysian restaurant local to us, which is still open for takeaway delivery, so onto Deliveroo we go! It's a little more costly than most local takeaways, coming to £58.65, but we wanted to treat ourselves. It also feels nice to keep supporting our local businesses too which must be struggling at the moment.
Every bite was worth it. It really lifted our spirits. Noor and I washed it down with a few bottles of beer bought from the supermarket shop too. We played another board game before Lucas retired for some Xbox time with friends. Noor and I finally re-watched the rest of the film I fell asleep through! Result.
Total spend: £58.65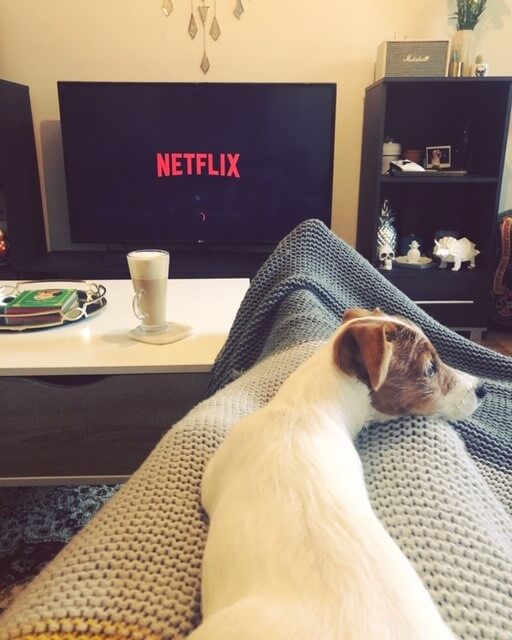 Conclusion
Like most people, this has probably been one of the more surreal weeks I've had in a while. I started documenting my spending from last Saturday as this officially felt like the first day of my new temporary life moving forward and I wanted to see what that looked like on paper.
I was slightly surprised at a weekly spend of £203.46 as it felt much less. However, seeing that over a quarter of this was spent on the Friday night take away, it makes more sense. Perhaps more frightening is the fact our usual weekly spending is closer to double what we spent this week due to our social costs (ouch!).
What struck me the most was realising just how far we can make food last with a bit of basic planning. As someone who usually shops little and often, I fall into the trap of spending far more than I need to. We probably eat bigger portions than we need to and can sometimes have more food waste too, which isn't great. Knowing you have to make your food last over a specific time period – in this case, 7 days – made us much more conscious of what we were eating. I've also cut down more on other little luxuries such as crisps and sweets.
Due to my lack of planning and preparation, I will comfortably spend between £25-£30 per week at work on lunch and coffee alone. My wife will probably do the same, if not more, working in London too. This £60+ per week when we work from the office is pretty much equal to our entire weekly shopping budget this week (when you deduct the cost of toiletries and alcohol from our shopping). And we still have food left over! That's quite an eye opener and something I want to address going forward.
Despite bouncing off the walls at home sometimes, I've also realised the value of spending quality cost-free time as a family this week – particularly playing board games that have been gathering dust for the past year or more. We're a very social family and love going out to trampoline parks, arcades, ice skating etc. And it doesn't mean this has to stop. But I think this week has brought us a lot closer in other ways too, which just goes to show that you don't always have to spend money to have fun. Just need to get the duster out once in a while.