Now more than ever our home's need to feel like a sanctuary. Here's how to make the most of yours without spending a fortune.
A home is so much more than a place to eat and sleep. Whether you have a house, a flat, a studio or a room, the space that is yours and yours alone is a space to be invested in. When we talk about investment, we're not necessarily talking about money, rather your home is somewhere that warrants time, effort, and commitment. We have come to rely on our homes so much more over the last couple of years; they have had to be places of work, play and rest.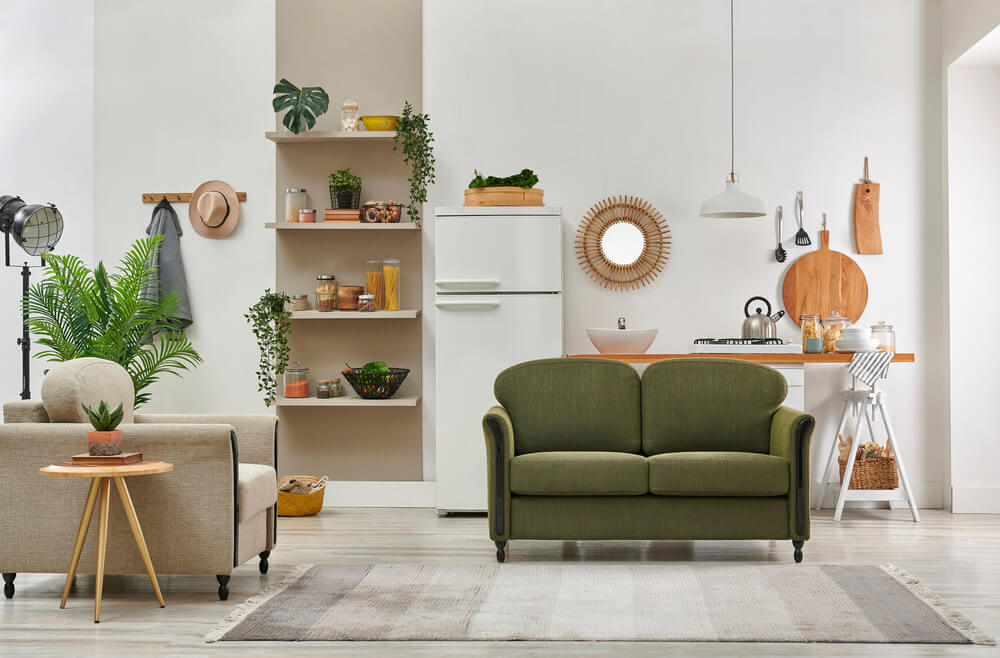 To make your home feel as comforting and nurturing as possible, you need to put your stamp on it. It should feel like your home. Of course, if you're renting, making big changes is often not an option, nor do you want to spend a lot of money on a place that you may not be living in for long. However, there are many budget-friendly, and even free, updates you can make to your home to make it feel and look like an extension of you and somewhere you can ignore the outside world and just be…
1. Give your front door a makeover
Front doors can take a bit of a battering as they're often knocked about by bags and boxes when you come-and-go, and they take the brunt of bad weather (well, one side does, at least). But not only are they the first thing you see after you come home from a long day, but it's also the first thing your guests see of your home. Keeping it clean is a must so drum up some warm soapy water and clean it from top to bottom. If you use a scented cleaner, or a natural product containing essential oils, your front door will smell clean and inviting too.
How far you take your makeover will depend on your budget. Why not give it a new and vibrant paint job? If your front door is wooden, give it a light buff with fine grain sandpaper to remove any lingering shiny varnish. Wipe the door down with a damp cloth to remove dust, mask up glass and hinges and get painting. Don't forget to mask up the door's hardware, such as knockers, numbers, or the letterbox - or, better yet, remove them and paint the entire surface of the door for a more professional finish. Choose a hard-wearing paint.

If you have a PVC door, there are paints available now which will allow you to completely cover it but there is quite a bit of prep involved. Lastly, install new door hardware or, if your existing hardware is decent but dull, give everything a good polish before refitting.

Top Tip: Chances are, your doormat is looking worse for wear. Pop it in the washing machine and, once dry, mist with a little fabric conditioner diluted with water to make it smell fresh and as good as new.
Once you get to the end of your clean, dot a cloth with a few drops of citrus essential oil and wipe down all of your radiators. The next time you put the heating on your home will smell incredible.
2. A good clean and tidy
Our homes accumulate all kinds of detritus from our day-to-day lives and, when you see it every day, it's easy enough not to notice the clutter building up. But, trust us, while you may not notice it, your guests will.
Put aside a day for a top-to-bottom clean. Organise your shelves, drawers and cupboards, declutter as you go and donate anything you no longer want or need to a charity shop. If you have a big home, or a lot of stuff, work your way through gradually by putting time aside each week for a different room until you have been around them all. Don't forget to dust picture rails and door tops.


3. Tackle the kitchen table
In most homes, the kitchen table is the centre of all activity. It's where you sit down as a family for lunch on a Sunday, where you chat with friends over a glass of wine, where the kids bake/build/paint and make slime. It's the most hardworking piece of furniture you own and, understandably, it's probably looking a little shabby. Giving it a facelift will perk the entire room up.
If your table is wood, give its surface a buff with fine sandpaper, in the direction of grain, to remove surface watermarks, stains and scratches. Wipe it down with a wet cloth and varnish or oil the surface. Oil will help bring out the natural grain.

If your table surface is a veneer, you can still do much of the same process, but you will need a lighter hand. Buff the surface lightly, just enough so that it creates a rough-to-the-touch texture. Then, as before, wipe it down with a damp cloth, buff it dry and then paint with your choice of hard-wearing paint. Using a small, dense roller will give you a smooth and professional finish. It may need a couple of coats but once it is opaque and completely dry, finish with clear varnish.
Top Tip: No one says that your table has to match your chairs. Paint them a different colour to your table to add a point of focus in your kitchen.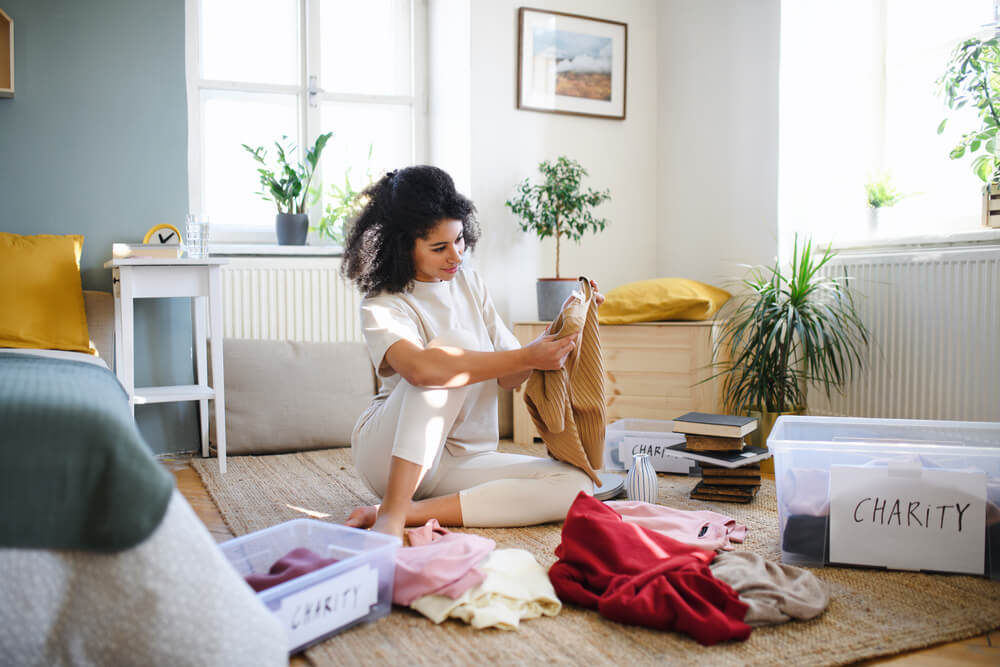 4. Cheats wallpaper
Wallpapering a wall, or all walls, can really add drama and style to any room, specifically in small spaces. However, wallpaper can be expensive and if you're not confident hanging it yourself, hiring a decorator adds on a further cost. This is why we rave about stencilling, or fake wallpaper.

Using leftover paint and an inexpensive stencil or stamp you can add personality to your walls. What is required, however, is patience and a steady hand. This is not a project that can be rushed. Pick a wall and, using a level, find your centre point. Then use the level to break the wall into a grid so that you can focus on stencilling or stamping one section at a time. If you're renting, you can easily paint over the wall when it comes to moving out.
Top Tip: Stripes are timeless, make your room look tall and, surprisingly, are easy to DIY. Use your level to create evenly spaced stripes and then use decorators' tape to mask up, leaving the area you want to paint exposed. Using a small roller will help get the job done quicker.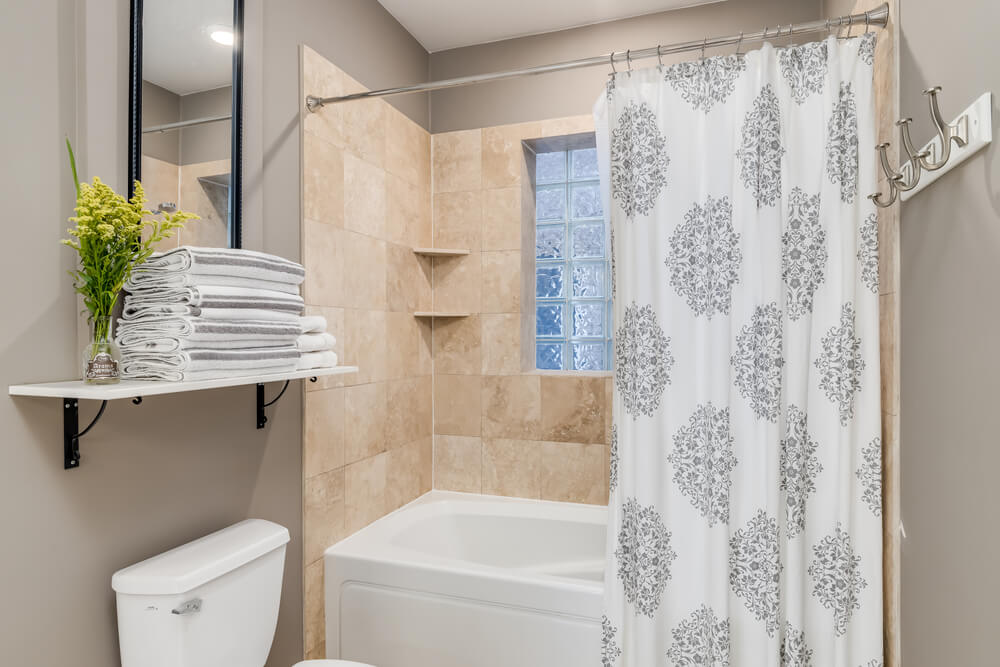 Top Tip: Many of us stash our beauty products away in a bathroom cabinet and while a clutter-free bathroom looks nice, it won't hurt to have a couple of the things that look especially nice on show.
Stay on budget
Of course, the most important element when it comes to decorating of any kind is sticking to a realistic budget. If you are a customer of Cabot our Budget Planner will help you work out a repayment plan that works for you so that you know how much you have at your disposal for your home update.
Contact us
If you're looking to take your first step to financial recovery, get in touch with us, our Customer Consultants can work through your finances with you to establish what you have left over to budget on and help you find the best affordable solution to repay your account.