Christmas is a time for friends and family; an occasion to be merry. For a lot of us though, there is a constant worry that those bills can pile up high if we're not too careful.
But it doesn't have to be like that.
Christmas is a magical time, but it doesn't mean you can't have quality time at Christmas on a tight budget. Follow our tips for a special Christmas that is great for you, your family and your wallet.
Food and drink
Although Christmas dinner is important, it isn't what people remember. Your family and guests will remember the fun you all shared together so there's no need to go all out. Remember to create a budget before you go shopping, along with a detailed list, to make sure you buy what's right for you. You can always compare supermarkets before you go shopping to make sure you get the best deals around.
Cabot tip: Switch up your Christmas day foods - instead of turkey, for example, cook a chicken and serve a few extra side dishes. This is a great idea for a cheap Christmas dinner that is just as tasty!
Christmas presents on a budget
At this time of the year, gifts come in from everywhere – colleagues, clients and so on. Some might not be to your taste, but could be just right for someone else on your Christmas list.
Cabot tip: If budgets are tight, think about introducing a secret Santa where each member of the family gets one person to buy for with a set budget. This means they'll have more time to think out that one special gift and no one feels short-changed on gift value.
If that idea doesn't work for you, keep an eye on price tracker sites that give you a percentage of your total spend back.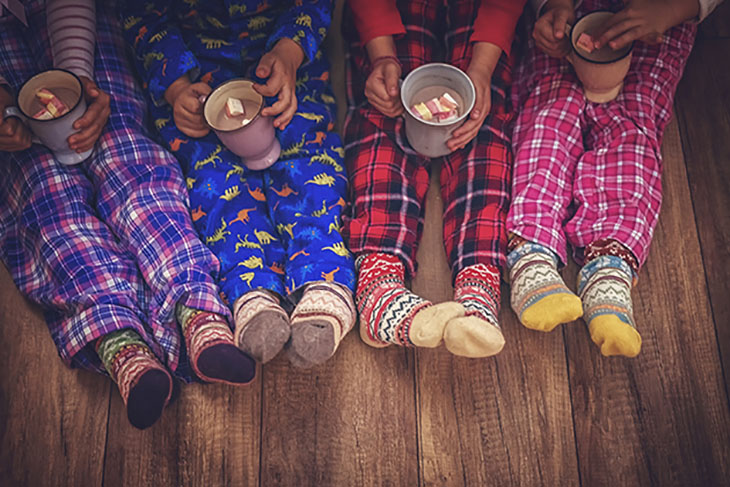 Cheap Christmas holiday activities
The children are on their winter break, excited that it is Christmas time, making it the perfect time to get them involved in making personalised Christmas wrapping paper, ornaments to hang on the tree and cards to send to friends and family. With some paint, some plain brown wrapping paper and a little time, they'll not only make some unique batches of wrapping paper, but they'll also have fun doing it.
Cabot tip: Take a look at local listings to find budget friendly Christmas activities to take the children to and, if the sun is shining, take the kids on walks in the countryside or to a museum with free entrance.
Travel
Travelling to and from loved ones over the Christmas period can be tricky. If you want to avoid the traffic, or don't have a car, you might want to consider booking a train or coach ticket to minimise travel costs. Another way to make travelling a little cheaper is by travelling earlier and booking those tickets in advance.
Cabot tip: Some train services carry out improvement works over the holidays, so always check rail schedules ahead of time to avoid disappointment.
Entertainment
If the weather outside is frightful and all you want to is huddle up on the sofa, there's always plenty to watch, thanks to the vast number of Christmas-themed films on FreeView and on-demand films on NowTV and Netflix. Understandably, there can be costs associated with these, but most services offer a one-month trial. Just don't forget to cancel before the end of the trial or you'll be charged once the trial period is over.
Burning off that festive meal can be fun for the whole family with a treasure hunt. A few riddles and hidden gifts can make the gift giving process feel longer and more of an event. Another game that doesn't require planning is Sardines - effectively like 'Hide and Seek' but only one person hides. Each time someone finds the person hiding, they need to join them in hiding. This carries on until there is only one person left looking.
From everyone here at Cabot Financial, we would like to wish you all a lovely Christmas.
If you're a Cabot customer, why not use our Budget Planner to help you get on top of your finances?
Get in touch with us
If you're worried about talking to us, remember that we're here to help you to discover financial recovery plans that are right for you. We also will never ask you to pay more than you can afford.
Find out more about how flexible we can be, by getting in touch today. We can create a payment plan that will work best for you.