We all know that debt can often cause stress, to both the debtor and to those around them. It's important for us all to manage all types of stress in a healthy and proactive way. We share 4 helpful steps to help you de-stress...
In todays world, stress may seem like a part of every day-to-day life, but it can easily spiral out of our control and lead to a variety of health conditions. The most common cause of stress amongst Brits is work related, followed by 60% citing money and 48% experiencing family stress. 
Stress is a natural reaction from the body that helps distinguish how threatening something is, helping to prepare the body for damage. However, when placed under stress for long periods of time, it can work towards causing more damage than good.
Suffering from stress can lead to poor mental health, like depression or anxiety, as well as cause physical ailments like muscle tension, panic attacks or high blood pressure. As such, it is important that you stay healthy by taking care of yourself.
To highlight the importance of managing stress this National Stress Awareness Day, we are focusing on a number of ways to de-stress from debt-related stress - in four helpful steps.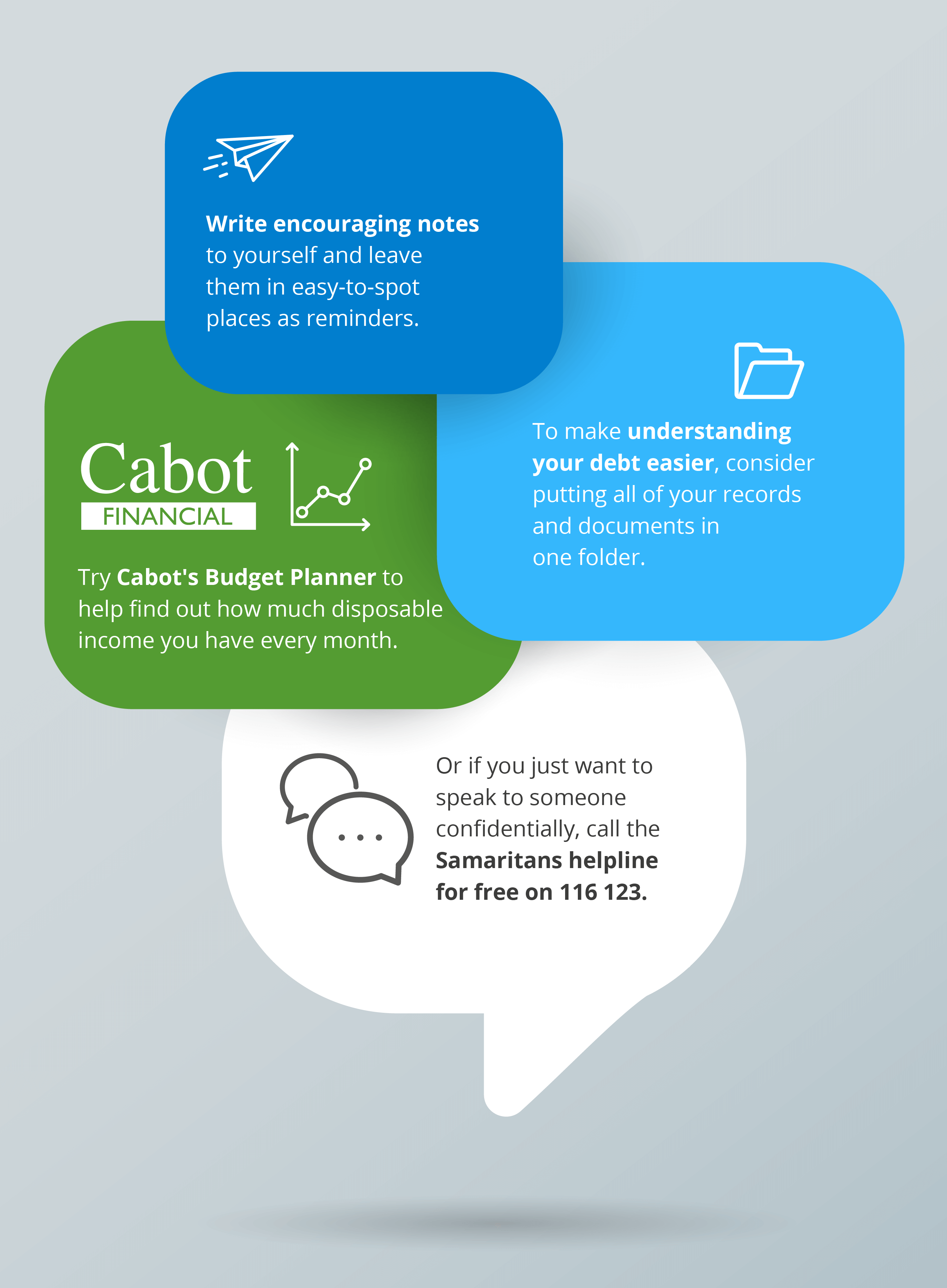 Step One: Acceptance
Accepting the amount of debt you have is the hardest, and most important step for you to take. One of the first steps that need to be taken to manage debt related stress, is accepting the amount of debt that has been created.
Take this chance to come to terms with how much debt has been accumulated over time, as well as to acknowledge the root cause of it. This will help you to understand the damage that has been caused to your finances.
Cabot's Budget Planner could be a really useful tool for you to use during this step, as it helps users identify where their money is going - by highlighting income and outgoings. The Budget Planner can be accessed online, or even over the phone - by going through the process with one of our Customer Consultants.
As well as this, national debt charities like PayPlan, StepChange, National Debtline or Citizens Advice can be really helpful resources to use during this period, as they can provide you with additional information and advice.
Step Two: A plan of action
The next step in the process of managing debt related stress is to make a plan of action. It is important to put a budgeting plan in place, as well as work out your income and outgoings.
This will enable you to set up a financial plan, which can help you work towards paying back your debts in an affordable way.
However it is important to continue to take care of your mental and physical health, as this can still have a significant impact on your ability to manage your debt and finances.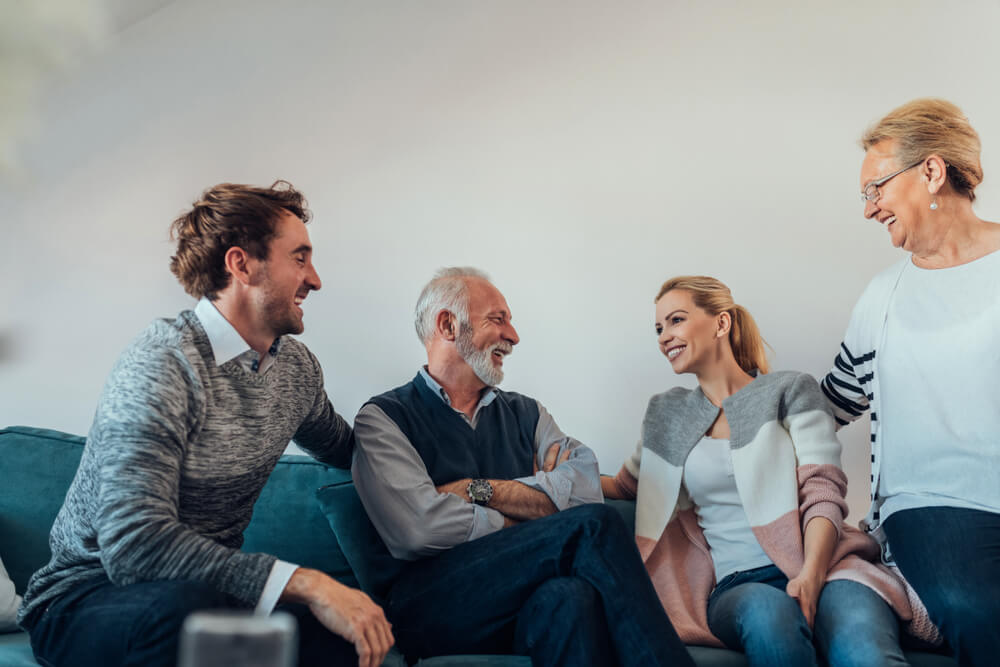 Step Three: Finding the right support
Before you take any further steps, it is important to acknowledge that you may need additional support. Communicating with family and friends should be a priority for you, as they can be a very useful support network for you to use during times of stress.
By sitting down with someone you trust and discussing your financial health, they could support you in a practical way by helping you to budget. They may also be able to provide you with their own insight on your situation, by providing you with their own personal debt related experiences.
Here at Cabot Financial, we can also offer you the right kind of support - as it is our mission to help each and every customer to financial recovery. We help thousands of customers take their first step to help them manage their accounts - through our phone call and online web chat services.
Our Customer Consultants can help you with the right kind of support, by helping you set up a specific goal with our budget calculator tool.
It could also be helpful for you to make contact with MIND, a mental health charity. Unfortunately debt related stress can often cause damage to a person's mental health, therefore it is important that you seek help and support if you need it.
Furthermore, it could be beneficial for you to contact PayPlan, a charity which specialising in supporting people with debt as well as those around them that the debt may be impacting.
They work towards fixing the triggers that cause people to spiral into debt, as well as providing support and advice to people who are in financial difficulties. This advice is provided through practical budgeting and money guides, which can be accessed online at any time.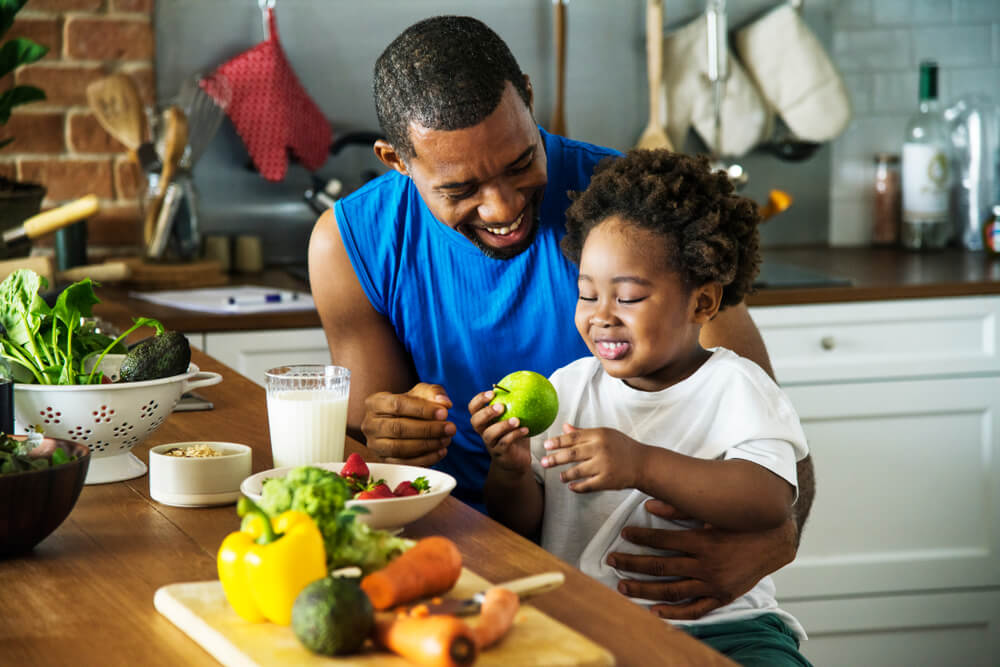 Step Four: Healthy mind, healthy body
Once a payment plan has been made, you may well be on your way to clearing your debt.
However, it still remains important to take care of your mental and physical well being. This can be fulfilled with a number of factors.
Healthy eating/balanced diet - ensure you're eating correctly and drinking enough water
Sleeping well
Hobbies
Exercise
Healthy eating and a balanced diet are important tools that you can utilise during times of stress and anxiety. By ensuring that you eat your five pieces of fruit and vegetables a day, as well as drinking plenty of fresh water, you will ensure that your body is receiving the vitamins that it needs to function at optimum level.
It is also important that you sleep well during times of stress, as this will allow your body and mental well being to recover and process important information from the day's events. Hobbies are an important aspect that can help your brain recover from stress. By engaging with an activity that you really enjoy and care about, you focus on yourself - improving your health in the process through rest.
As well as this, exercise can be a great tool to use. As we exercise, the body releases endorphins which will help to support your mental health, immune system and help strengthen your bones and muscles. In fact, 42% of people in the UK currently use exercise to overcome stress.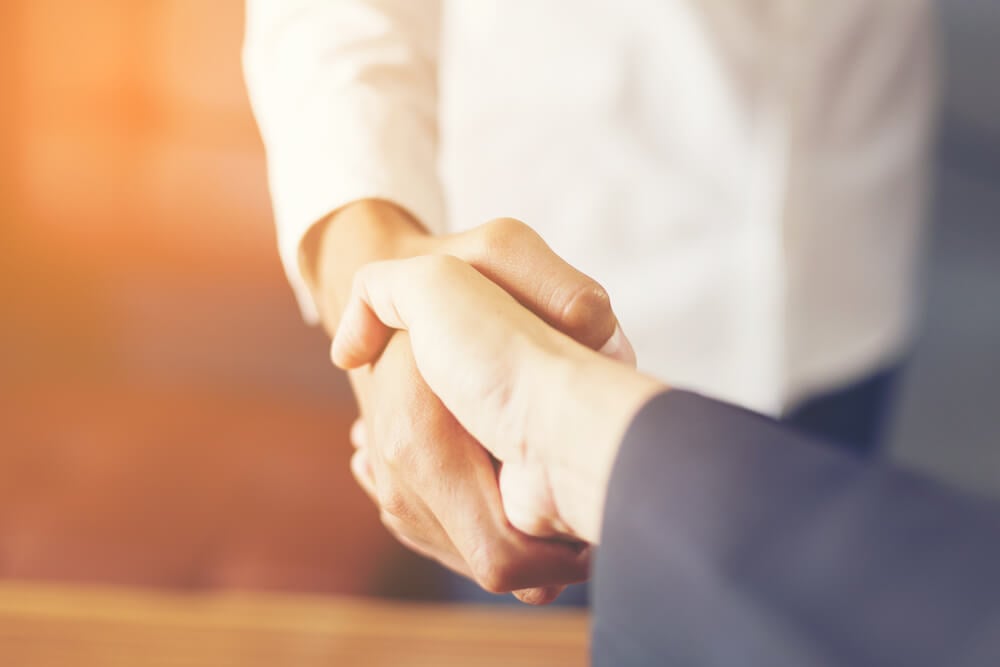 Finding more help
National Stress Awareness Day raises awareness towards the impact that stress can have upon our families and friends, as well as the importance of seeking help and support when we need it.
We know dealing with debt can be difficult, especially when also suffering with stress. If you do feel like you need some help, then we advise seeking support. Independent organisations can offer free advice, which can be very useful when you find yourself struggling financially.
We recommend getting in touch with:
PayPlan: 0800 280 2816
StepChange Debt Charity: 0800 138 1111
National Debtline: 0808 808 4000
MoneyHelper (formerly 'The Money Advice Service'): 0800 138 7777
MIND: 0300 123 3393
Remember that we're here to help you to financial recovery and that we'll never ask you to pay more than you can afford. Check out our customer testimonials to see the journeys that some of our customers have previously taken.
We help over 82,000 people every month, no matter what happens next, we promise to treat you fairly and support you in repaying your account. If you're worried about talking to us, remember that we're here to help you reach financial recovery and that we'll never ask you to pay more than you can afford.


Find out more about how flexible we can be, by getting in touch today.